The Black Market III Story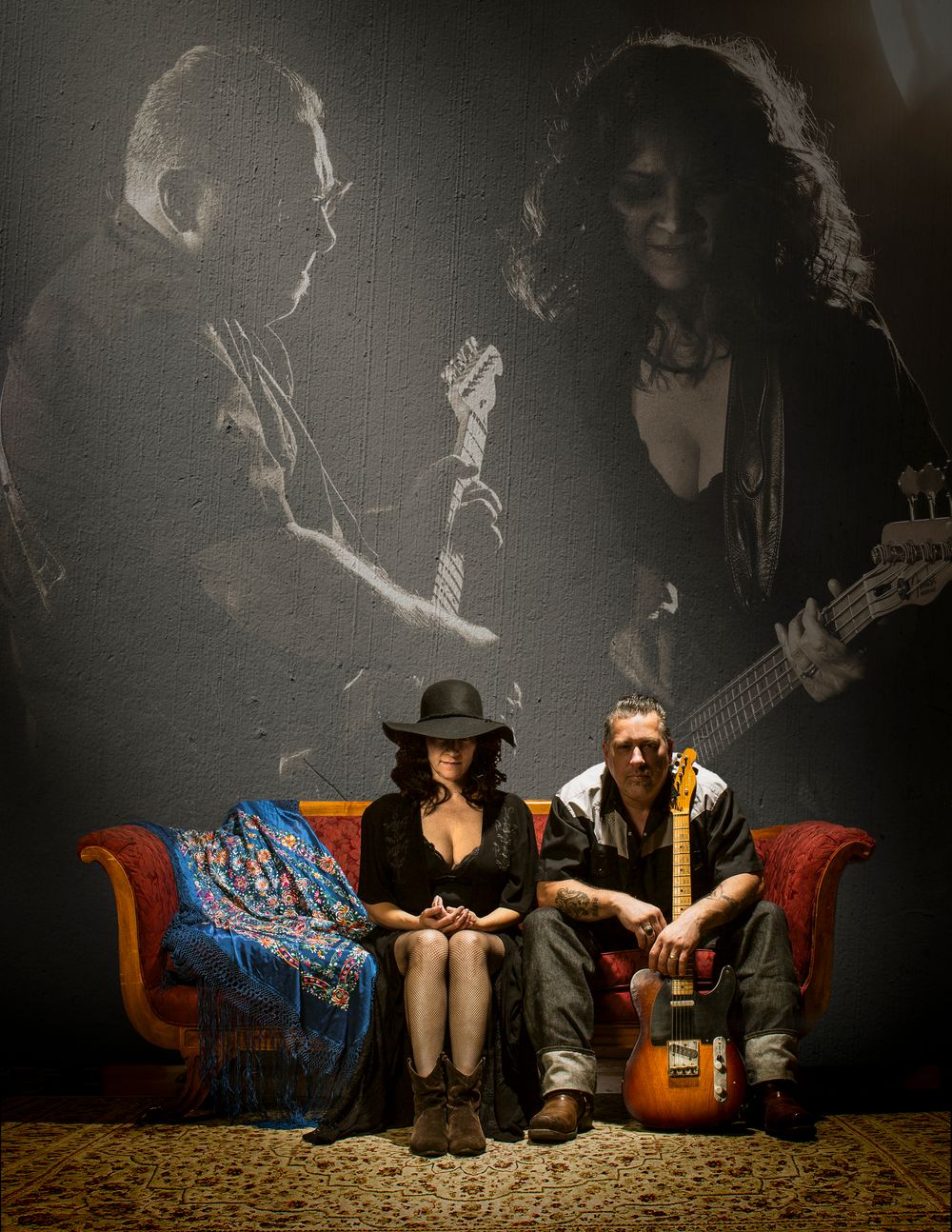 "No pigeon holing this band--Blues and American Roots firmly planted, yet not like anything you've heard or seen before. The band prides itself on its ability to perform diversely and dynamically, playing every venue just right from stripped down Blues to their trademarked "Grease Punk" sound.
Black Market III crosses over, using the Blues as the root of the sound. In addition to their original music, BMIII features more obscure covers from Tom Waits, Jimmie Vaughan, Freddie King, Otis Blackwell, Leadbelly, Dead Weather, Social Distortion, Led Zeppelin, and many more. No pigeon holing this band--Blues and American Roots firmly planted, yet not like anything you've heard or seen before. 
Formed in the Fall of 2011 by Scottie Blinn* (former front-man for the iconic, multi-award winning San Diego band The Mississippi Mudsharks) and Roxanne Coverdale, Black Market III quickly turned into a red hot band focused on playing hard hitting, soulful Blues, American Roots, and Rock (the vein of Social Distortion and the Clash). 
BMIII was touted as "The Band To Watch" by Dave Good of the San Diego Reader, and was nominated their first year for a 2012 San Diego Music Award as "BEST BLUES BAND". Their first full length CD, 'Songs That Shake The Cage', was released in the summer of 2012, accompanied by European and U.S. touring and playing shows with the likes of Rick Derringer and Roni Lee (The Runaways). It was named as one of the "Top 5 CD's 2012" by SD Rock 'n' Roll, received a 2013 San Diego Music Award nomination for "BEST ROCK ALBUM", and received airplay worldwide. 
The band released their 2nd CD, "Black Roses" in Sept. of 2013, accompanied by Western U.S. tour dates and a 5 week Fall European tour, playing 24 shows in 30 nights and spreading over 4 countries. 2014 found the band widening their US tour routes, and heading to Europe for two festival and club date tours of Europe and the UK for a total of 5 months! 'Black Roses' was also nominated "BEST BLUES ALBUM" at the 2014 SDMA's, and received critical acclaim worldwide. 
In 2015, the band recorded their first live CD titled "Vanarchy •Live•", played non-stop on the road in the Western U.S., received a nomination for "BEST BLUES ALBUM" on the new CD, and embarked on a 3 month, 9 country European tour. They ended this exceptional year by being named "ROCK BAND OF THE YEAR, 2015" by Independent Musicians Promotions Radio (IMP Radio), based out of New Zealand and now worldwide. 
2016 had the band continuing to build their presence on the road in the Western U.S. With the release of their homage to Led Zeppelin "Black Country", BMIII completed an extensive 4 month, 5 country tour of Europe and the UK, playing 60 shows to packed audiences. They returned home to a nomination for "BEST ROCK BAND" by the San Diego Music Awards, and immediately resumed touring in the US through 2017 in CA, NV, OR, ID, UT, CO, WY, TX, NE, IL, OH, and PA. 
2018 started with a bang as BMIII received a nomination for "Best Blues Band" by the SDMA's, and con-currently signed with Rip Cat Records, based out of Southern CA. Their new label family includes The Blasters, Kid Ramos, Rod Piazza & The Mighty Flyers, The 44s, The John Clifton Blues Band, and many more top bands on the scene today. The year was spent recording their CD "Dashboard Jesus" while relentlessly touring the U.S. and Europe, performing close to 200 shows. 
Fresh off their latest European tour, BMIII returned home to play a featured role as the band in a live production of the Quentin Tarantino/Robert Rodriguez film, "From Dusk 'Til Dawn". "Dashboard Jesus" was released in Nov. '18 and debuted at #25 on the Roots Music Report's Top 50, with the singles "Daddy Rollin' Stone" hitting #4 and "When The Sun Goes Down" reaching #36. 
2019 kicked off with"Dashboard Jesus" getting a nomination for "BEST BLUES ALBUM" by the San Diego Music Awards. This was followed up with 4 months of touring in the U.S. and another 3 months touring in Europe. The band performed over 200 shows, and hit the 1000th show mark during the European tour. The "Dashboard Jesus Tour" was a great success! 
2020-Ushering in the new decade, BMIII was nominated "BEST BLUES" by the San Diego Music Awards. BMIII has plans for their 2nd release on Rip Cat Records and an extensive European tour to support the CD, as well as commemorate Scottie's 20th tour of Europe. 
*Scottie Blinn--Multiple San Diego Music Awards and nominations to his credit (3 wins, 29 nominations), European Blues chart topping CD's (Two #1's, a #3, and a #4 on the CrossCut Blues Chart), as well as 29 years of experience recording, and touring the States and Europe (20th Euro tour Summer-Winter 2020). Scottie has played with and opened for some of the biggest names in the business, including Billy Gibbons (ZZ Top), Willie Nelson, Buddy Guy, George Clinton and the P-Funk All Stars, Brian Setzer (Stray Cats), Dr. John, Dick Dale, Kim Wilson (Fabulous Thunderbirds), Anson Funderburgh (Texas Blues Guitar Legend)…and many more! 
Black Market III is proud to be a part of the Quilter Labs (Amps), QSC, Iconic Custom Guitars, MotorCult Clothing, Moze Guitars, Austin Ribbon Microphones, Boulder Creek Guitars, and TV Jones pick-ups families.